FFCCCII's officers and members of External Affairs Committee attended the commemoration of the 149th birth anniversary of Gat Andres Bonifacio on November 30, 2012, Friday, 8:00 am at the Bonifacio Shrine near Manila City Hall.
Manila Mayor Alfredo Lim led the observance of Gat Andres Bonifacio's 149th birth anniversary with simple wreath-laying ceremonies. The celebration was highlighted by a performance of the Sandiwang Kayumanggi from the Carlos P. Garcia High School. The event was attended by national and local government officials, students and teachers from Manila public schools.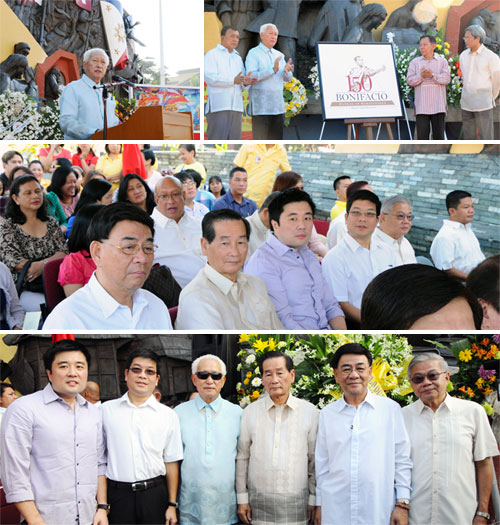 Upper left photo: Manila Mayor Lim delivered his message during the celebration. Upper right photo: Launching of the logo for the celebration of the Bonifacio's 150th birth anniversary next year.
Middle photo: Secretary General Dr. Fernando Gan, Vice President Domingo Yap, Vice Chairman Nelson Guevarra and Council Members Dennis Tan and William Ang joined the commemoration of the 149th Birth Anniversary of Gat Andres Bonifacio. Lower photo: FFCCCII's officers and members with Mayor Lim.
Photo by Wilson Ong