31 August 2012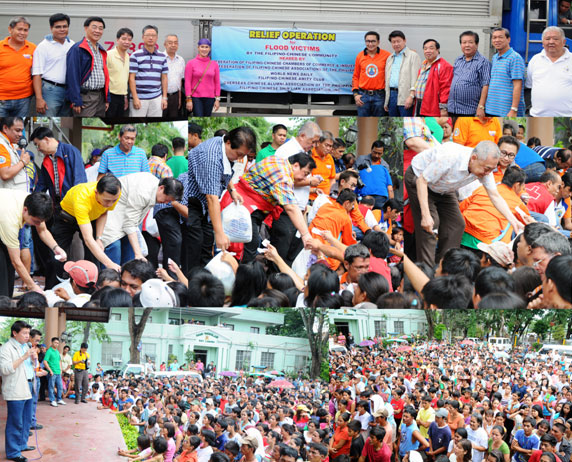 The Chinese-Filipino community led by the Federation of Filipino–Chinese Chambers of Commerce & Industry, Inc. (FFCCCII) launched a fund drive together with the Federation of Filipino-Chinese Associations of the Philippines, World News Daily, Filipino-Chinese Amity Club, Overseas Chinese Alumni Association of the Philippines and Filipino-Chinese Shin Lian Association, Inc. to help the victims of massive floods caused by the southwest monsoon in Metro Manila and several Luzon provinces.
Relief goods were immediately distributed in affected areas including Marikina, Manila, Pasig, Mandaluyong, Quezon City, Navotas, Rizal, Laguna, Bulacan, Pampanga, Tarlac, La Union and Bataan.
As of August 31, the continuous relief efforts have distributed 96,000 packages of relief goods. Relief operations continue in areas still affected by the massive floods.