Federation of Filipino Chinese Chambers of Commerce & Industry, Inc. (FFCCCII) led by its President Dr. Alfonso Siy with other officers paid a courtesy to Manila Mayor Joseph Ejercito Estrada on July 9, 2013. Mayor Estrada warmly welcomed the FFCCCII officers as the first Filipino-Chinese organization to pay a call to him.
Dr. Alfonso Siy congratulated Mayor Estrada on his election as the new mayor of Manila. He expressed the strong support of FFCCCII to the Mayor for his plans and to seek partnership and cooperation with the Mayor for the development and progress of Manila.
Mayor Estrada listed down some of his plans: eliminate illegal settlers and sidewalk vendors by providing them means of livelihood and solve the problems of traffic in the city to restore the beauty of Manila. He will put his priority to restore Binondo Chinatown and maintain its peace and order. He will also eliminate undesirable policemen. He will rebuild and restore Manila to create an environment conducive for business and tourism making Manila the most friendly city.
Dr. Siy suggested the cleaning of esteros in order to maintain clean sanitation to prevent the spread of diseases and also eliminate double parking along the streets of Manila.
Present during the call were: Honorary President Tan Ching, Executive Vice President Angel Ngu, Vice Presidents Domingo Yap, Henry Lim Bon Liong, David Chua, Alex Yap Choty, Victor Lim, Delfin Letran, Auditor William Yap Castro, Secretary General Dr. Fernando Gan, News & Media Committee Chairman Richard Ang and External Affairs Committee Co-Chairman Nelson Guevarra.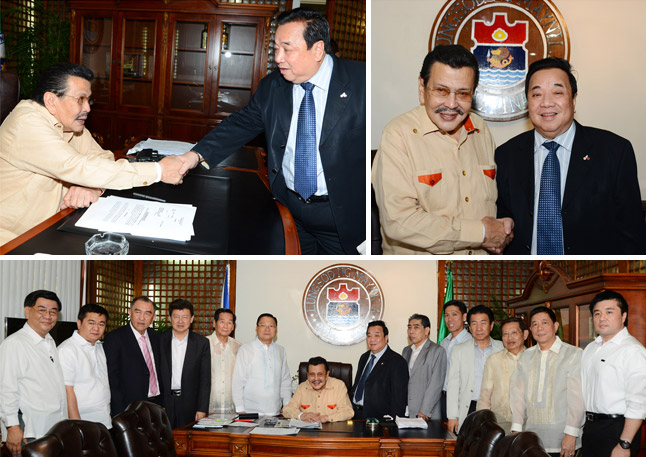 Upper left photo: Manila Mayor Estrada welcomed FFCCCII President Dr. Alfonso Siy.
Upper right photo: Dr. Alfonso Siy congratulated newly elected Manila Mayor Estrada.
Lower photo: FFCCCII's officers with Manila Mayor Estrada.
Photos by Mr. Wilson Ong