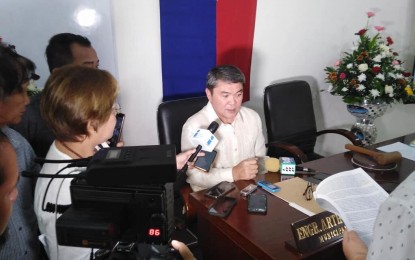 MAGSAYSAY, Davao del Sur — The local chief executive here has expressed confidence for a continued uptrend in local tax collection in the next three years.
"Our local revenues are steadily improving since I assumed office in 2013. And I have to congratulate the local finance committee (LFC) for a job well done making the municipality of Magsaysay as the No. 1 in collection efficiency in Davao del Sur for 2018," Mayor Arthur Davin said during his State of the Municipality Address (SOMA) on Monday.
Davin recalled that when he first came into office in 2013, the local revenue was at just around PHP5.4 million. In 2018, he noted that the local finance committee reported a whooping PHP13.8 million collection.
For this year, the mayor said the local treasury collected PHP10.1 million in the first half alone.
"One of the factors for this new development is the revision in some of the provisions of our existing local tax code which I considered a very outmoded one. It will no longer fit at this point in time," Davin said.
Davin has called on the municipal council to pass a new tax code to reflect the current economic realities so that the local government unit can better respond to "the needs of the time."
He said the town's rising tax revenues can be attributed to collection efficiency, greater purchasing power among residents, improved production of high-value crops and fruit trees because of investments in farm to market roads, reduced transportation cost, and better market access among farmers and traders. (PNA)
Source: http://www.pna.gov.ph/