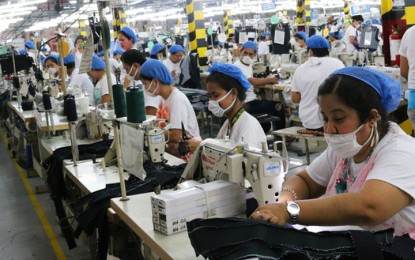 MANILA — The Department of Labor and Employment (DOLE) remains steadfast on the commitment of President Rodrigo Duterte to end contractualization by providing contractual workers regular status in their jobs.
In a letter to National Task Force to End Local Communist Armed Conflict (NTF-ELCAC) Executive Director Allen Capuyan, DOLE Secretary Silvestre Bello III said several measures were implemented to stop contractualization.
"To protect and respect all rights at work, the DOLE strictly enforced compliance to labor laws and standards through its labor inspection system," he said.
"The DOLE remains aggressive (in) its efforts to realize the President's directive in ending endo and other forms of illegal contracting arrangements through strict enforcement of labor standards as well as development of enabling policies to protect workers' right to security of tenure," the labor chief added.
Bello said the department has inspected some 184,539 establishments covering 12.196 million workers nationwide, as a result of its intensified inspection of private establishments to ensure compliance with labor law standards.
He added that 474,329 workers have been regularized from August 2016 to June 30, 2019.
"Of this figure, 343,580 workers were regularized through voluntary regularization while 130,749 workers were regularized through inspection," he said.
Stronger measures
He noted that stronger policy measures were issued to complement the efforts in labor inspection, which include the issuance of DOLE Department Order (DO) No. 174-17 or the new rules on contracting and subcontracting; Executive Order (EO) No. 51 "Implementing Article 106 prohibiting illegal contracting and subcontracting" and the Security of Tenure Bill (SOT) which was passed by the House of Representatives and Senate awaiting the approval of the President.
DO 174-17 is a product of comprehensive and inclusive area-wide consultations involving all sectors, such as the formal, informal, public, migrant, women, and youth.
The DOLE, he said, has undertaken measures to ensure the effective implementation of DO 174-17, which include the regularization of workers through inspection, deputization of trade unions and employer organizations to participate in the inspection of establishments' compliance to labor laws and social legislations.
Under EO 51, SOT is defined as the right of employee not to be dismissed or removed without just, authorized and observance of procedural due process consistent with the Constitution, Labor Code, as amended, and prevailing jurisprudence.
The end-of-contract scheme, popularly known as endo, is the practice of hiring and terminating workers after every five months to circumvent their regularization.
Meanwhile, the DOLE is looking to have a new version of the SOT bill, which was vetoed by Duterte, before the Legislative Executive Development Advisory Council (LEDAC) next week.
Bello earlier said the President instructed them to revisit the measure, which aims to end contractualization.
The new version will be a balance between the security of tenure and the viability of employers. (PNA)
Source: http://www.pna.gov.ph/