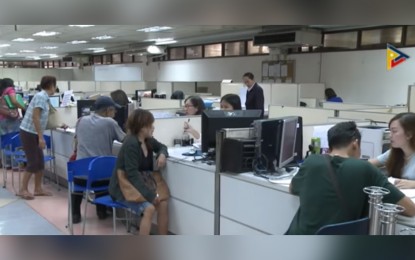 MANILA — Finance Secretary Carlos Dominguez III, along with high-ranking officials of four other government agencies, signed Wednesday a new and enhanced memorandum of agreement (MOA) aimed at improving the ease of doing business in the country by facilitating the early resolution of complaints and other concerns raised by investors, the Department of Finance (DOF) announced in a statement.
The new Investment Promotions Unit (IPU) Network (Net) MOA inked on Wednesday commits 36 government agencies to efficiently and swiftly resolve issues raised by investors to avoid delays in the processing of business registrations, permits and licenses, among other concerns, in line with the Duterte administration's goal to cut red tape and make the Philippines more attractive to investors.
With the new MOA in place, the delivery of frontline government services, especially the processing of business transactions, will be monitored by the Anti-Red Tape Authority (ARTA) to ensure that any delays are addressed immediately in compliance with Republic Act 11032 or the Ease of Doing Business and Efficient Government Service Delivery Act.
Under RA 11032, simple business transactions should be processed within three days, complex processes within seven days and highly technical ones within 20 days.
Signed at the DOF office in Manila, this new MOA states that IPU Net should act on investment issues and concerns within 72 hours from the receipt of the complaint or query, but not later than 15 days, as prescribed under the Code of Conduct and Ethical Standards for Public Officials and Employees.
It also aims to promote the use of the One Window Network (OWN) of the Bureau of Investments (BOI) and other online facilitation systems available in other government agencies in fast-tracking the submission of investment-related issues, concerns, and queries.
OWN is a cloud-based web portal and mobile application that offers online facilitation of investors' pre-investment and post investment queries and concerns.
The new IPU Net MOA also covers pre-investment and post-investment assistance and services to investors to support the retention and expansion of their projects.
Aside from Dominguez, the other signatories to the new IPU Net MOA were Bureau of Internal Revenue Commissioner Caesar Dulay, Bureau of Customs Commissioner Rey Leonardo Guerrero, Bureau of Local Government Finance executive director Niño Alvina and Securities and Exchange Commission chairman Emilio Aquino.
Trade Secretary Ramon Lopez witnessed the signing of the IPU Net MOA, which was earlier signed by the heads of the other concerned government agencies.
BOI Investment Assistance Service director Bobby Fondevilla said the IPU Network has been processing queries and concerns, mostly from investors under the Philippine Economic Zone Authority.
An IPU Network MOA was first signed on April 25, 2007 among the BOI and 26 other government agencies. (PR)
Source: http://www.pna.gov.ph/