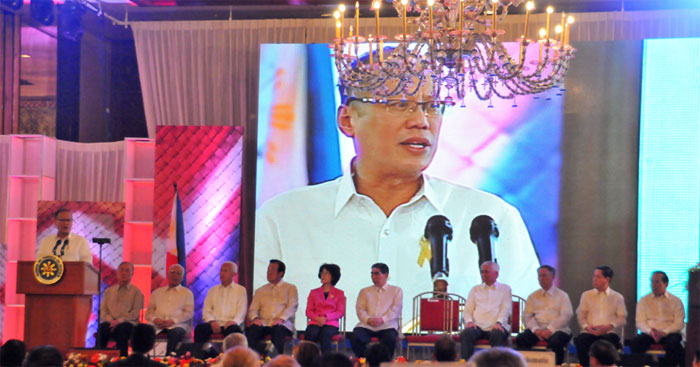 The Federation of Filipino-Chinese Chambers of Commerce and Industry, Inc. (FFCCCII) and the Chinese-Filipino community held a "Joint Celebration of the 114th Philippine Independence Day, 37th Anniversary of Philippines-China Diplomatic Relations and 11th Filipino-Chinese Friendship Day with His Excellency Benigno S. Aquino III as Guest of Honor and Keynote Speaker on June 13, 2012 at the Manila Hotel Fiesta Pavilion.
During the program, President Aquino witnessed the turn over of FFCCCII's 2 Million Pesos donation to PNP Foundation, Inc. (PNPFI) represented by President Rafael Dizon III; Executive Director Ret. General Victor Batac, and Vice Chairperson Teresita Ang See. The said amount is the culmination of FFCCCII's 5 Million Pesos pledged donation to PNPFI. FFCCCII is an active supporter of PNPFI's various programs.
President Aquino also witnessed the symbolic turn over of 400 resettlement housing units donated by FFCCCII, Federation of Filipino-Chinese Associations of the Philippines (FFCAP) and the Chinese-Filipino community for typhoon 'Sendong' victims in Cagayan de Oro City (300 housing units) and Iligan City (100 housing units). FFCCCII turned over the housing units to DSWD Secretary Corazon Juliano-Soliman. The housing project will be called "Filipino-Chinese Friendship Village."
FFCCCII President Tan Ching delivered the welcome remarks and Chinese Ambassador Ma Keqing delivered a message.
Every year, the Chinese-Filipino community celebrates Philippine Independence Day in solidarity with the entire nation in remembering the struggles and victories of our heroes who fought for our independence. The joint celebration also marked the 37th Anniversary of Philippines-China Diplomatic Relations and 11th Filipino-Chinese Friendship Day which are celebrated on June 9.
The event was attended by more than 1,500 guests including officials of the Philippine government, Chinese Embassy, members of the Diplomatic Corps, business sector, and members of Chinese-Filipino organizations and associations. Another highlight of the event was a cultural presentation which featured Filipino and Chinese songs and dances.