Escalante City Mayor Melecio " Beboy" Yap lauded and thanked the people behind the Federation of Filipino Chinese Chamber of Commerce & Industry Inc. (FFCCCII) for bringing their advocacy of serving the poor to the city Friday.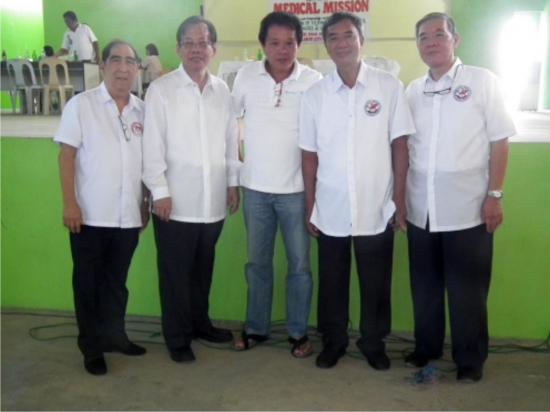 ESCALANTE CITY Mayor Melecio "Beboy" Yap (3rd from left) welcomes Yip Ying-Wun (John Yap), Board Member of FFCCCII and President of NOFCACl and of SNFCCCII. Also Directors Roger Yap, Philip Yap and Carlos Ganihong, Chief of AVF at FFCCCI Foundation Inc. during the Feb. 21 medical mission of FFCCCII in the city.* (Jun de los Reyes/NDB photo)
"FFCCCII is truly an organization that looks forward to the situation of poor families. They shared their love and blessings through this free medical consultations with free medicines. This is a big help to the people of Escalante considering that we have limited resources. Dako gid namo nga pasalamatan sa ila sa FFCCCII Foundation Inc., in partnership with SNFCCCII, NNFCCCII, NOFCACI and AVFB," Mayor Yap said
"We are very thankful for this medical mission. It helps a lot of our people in Escalante. Hundreds of people are in dire need of help especially the indigents and less privileged patients. Having availed of this Libreng Pagamutan by FFCCCII is a privilege," said Escalante Vice Mayor Atty. Santiago Maravillas.
More than 600 individuals availed of the Libreng Pagaumutan of the FFCCII Foundation Inc., in partnership with the SNFCCCII, NNFCCCII, NOFCACI, AVFB spearheaded by Yip Ying- Wun (John Yap) – Board Member, FFCCCII, at the same time President of SNFFCCCII and NOFCACI together with Directors Philip Yap, Roger Yap and Carlos Ganihong the Chief of AVGB with the full support and cooperation of the City Government of Escalante headed by Mayor Yap, Vice Mayor Maravillas, SPM's and barangay officials,
Dr. Lolita Legaspi, City Health Officer, Dr. Rofelia Doloso, Asst. CHO, Dr. Dante Pabuaya, Dr. Felix C. Doloso (Vicente F. Gustilo District Hospital), Dr. Jaboni Judith at Cora and Dr. Jabbel Y. Jayawon of the Municipal Health of Toboso , Atty. June Vaflor – City Tourism Officer and staff and personnel, CHO and CSWDO head – Vermont Jubahib Staff and personnel with the Amity Volunteer Fire Brigade Nurses and personnel, Ma. Arnel Nunez, Eveylyn Villaflor, Mercy Grace Posadas, Queency Marie Magno, Chino Mar Villaruz, Cheza Steve Tayson, Julie Yip, Marla Tamariz, Michelle Ann Navales, Chasonne Matulac, Vincent Van Urbino and Alan Sagmon and 11 nurses , 21 Midwife of Escalante City help and facilitated the Medical Mission.* (Jun de los Reyes)
Source: www.ndb-online.com