The officials of the Federation of Filipino-Chinese Chambers of Commerce and Industry Inc. (FFCCCII), a Filipino-Chinese business group, paid a courtesy call to President Benigno Aquino III on Friday and made a PHP20 million donation for the rehabilitation of the victims of recent typhoons that ravaged the country.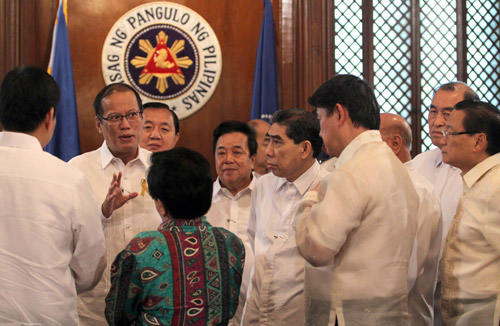 According to Presidential Spokesperson Edwin Lacierda, victims of back-to-back typhoons Pedring and Quiel are the beneficiaries of the fund, which will be used to beef up available government funds for that purpose. The donation was later turned over to Department of Social Welfare and Development Secretary Corazon "Dinky" Soliman. Typhoons Pedring and Quiel ravaged the country several weeks past, and in their trail are combined damages of at least PHP12 billion. Several provinces remain submerged in floodwater, and thousands of people have been left homeless and displaced. In Luzon, more than 70 people died in typhoon-related incidents, and 74 others were hurt. There are 29 people missing.
FFCCCII Executive Vice President Guilbert Go; Honorary Presidents John K.C. Ng, Dr. Robin Sy, Dr. Francis Chua; Vice Presidents Dr. Alfonso Siy, Angel Ngu, Ong Eng Chan, and Alex Yap Cho Ty were present at the handover. They are joined by other FFCCCII officials Secretary General Dr. Fernando Gan, Board Member and Chairman of the Welfare Committee Enrique Chua, Auditor William Tieng, Vice President William Gosiaco, and Vice Chairman of the Trade and Industry Committee Raul Ang.
Source: www.mypinoy.tv