A TOTAL of 27 two-classroom school buildings, equivalent to 54 classrooms, will come into fruition in the province and city of Iloilo within the school year 2011-2012 courtesy of kind-hearted Chinese-Filipino communities and other philanthropists from various parts of the country.
Ramon Cua-Locsin, president of the Federation of Filipino Chinese Chamber of Commerce of Panay, Inc. (FFCCCPI) said that the endeavor is part of the longest running and biggest private sector-led school building construction program in the Philippines under the Operation: Barrio Schools of the Federation of Filipino Chinese Chamber of Commerce and Industry Inc (FFCCCII) headed by its national president Tan Ching.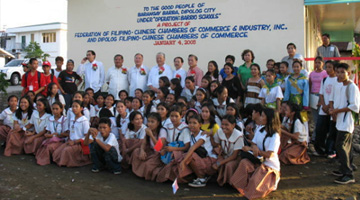 Cua Locsin added that initially 10 two-classroom buildings will be turned over to 10 selected schools in municipalities of Anilao, San Enrique, New Lucena, Dumangas, Pavia, Guimbal, Miagao, Alimodian and Iloilo City starting Thursday.
"These buildings were constructed through donations from FFCCCII members, benevolent organizations, families and individuals within the Chinese-Filipino community as well as support from local chief executives (LCEs) of recipient schools," he said.
Recipient schools are Santiago Arandilla Memorial School in Anilao donated by the Nation Paper Products and Printing Corporation; Vicente Aguilar National High School in San Enrique by Mr. and Mrs. George Lao; Baclayan Elementary School in New Lucena with the family of Peter Coliango as donor; St. Louis De Montfort Academy in Dumangas by Mr. and Mrs. Angel Tan.
Spouses Vicente Tiu and the Tio Cho Teg-Ana Ros Foundation Inc donated two (2) school buildings to the TCT-AR Integrated School in Iloilo City and Pandac Elementary School in Pavia.
Other classroom buildings are built at the Blas and Maria Gerona Memorial Elementary School in Guimbal that was donated by Avesco Marketing Corporation; Bacuan-Mambatad Elementary School in Miagao that was donated by Mr.and Mrs. Jose Go and the Sinamay National High School in Alimodian by Mr. Antonio Sy of Marton Manufacturing Philippines Corporation.
Cua Locsin underscored that the program which is very much attuned to President Benigno S. Aquino III's public-private partnership (PPP) concept has already constructed more or less 150 two- classroom school buildings in Iloilo since its inception.
Nationwide, it already surpassed the 4, 000 mark during the term 2009-2011.
The Federation with its track record of having constructed school buildings "promptly and at a lower cost" has since then been tapped by the government to undertake similar projects in various parts of the country.
Meantime, apart from the classroom building projects the FFCCCPI under Cua- Locsin's realm is also very active in various civic activities.
Recently, it donated four motorcycles to the city government of Iloilo for the utilization of the Iloilo City Police Office (ICPO) in its peace and order campaign, particularly providing aid to the mobility of the local police.
The Federation also conducted series of Medical-Dental Mission in four depressed barangays of Iloilo City in partnership with volunteers from the Philippine Red Cross-Iloilo Chapter, Philippine Dental Association-Iloilo Chapter, medical doctors from different hospitals in Iloilo City and the Dinagyang Foundation, Inc.
Meanwhile, every year some 5, 000 indigents are identified as recipients of the Federation's gift-giving activity held in December.
Their well-equipped Federation of Iloilo Volunteer Fire Brigade with eight fire trucks are also always ready to respond during emergencies, according to Cua Locsin.
The volunteer brigade is always on its toes to extend help during disasters/calamities like fire or flood, he added.
Source: www.thedailyguardian.net