FFCCCII's officers attended the oath taking ceremony of the successful applicants of naturalization as Filipino citizens on November 22, 2012 at 9th Floor, Padilla Hall, Office of the Solicitor General. The ceremony was personally administered by the Honorable Solicitor General Francis Jardeleza.
Among the thirteen petitioners, four are former Chinese nationals:
They are Jenny Hung Huan, Lita Sia Go, Margaret Shih Lam and Richard Tan Teng.
The FFCCCII has assisted several applicants in the application of naturalization of Filipino citizens thru RA9139. After evaluating and screening the papers and documents required of the applicants by the FFCCCII, their applications were duly approved by the Special Committee on Naturalization(SCN) within a year after submitting their application and passing the interviews by the SCN.
1st photo shows the successful applicants for naturalization as Filipinos citizens taking their oath.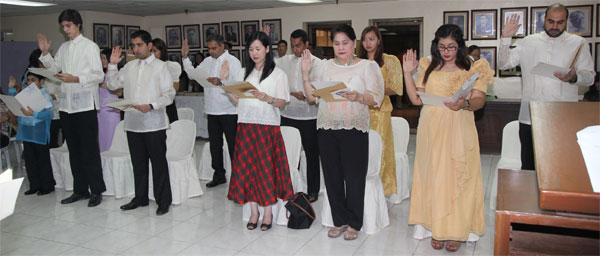 2nd Photo shows FFCCCII's officers with the four former Chinese nationals after they took their oath of allegiance as Filipino citizens.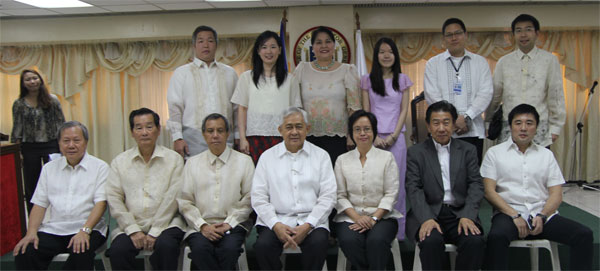 Seated from left: Vice Chairman Gan Tiak Kheng, Vice President Domingo Yap, Justice Roman del Rosario, the Executive Director of Special Committee on Naturalization(SCN), Honorable Solicitor General Francis Jardeleza, Atty. Shirley Nuevo, Principal Assistant of USEC. For Administrative Affairs, DFA, Chairman Victor Lim and Vice Chairman Nelson Guevarra.
Standing from left: the four new Filipinos, Mr. Richard Tan Teng, Jenny Hung Huang, Lita Sia Go and Margaret Shih Lam, Solicitor Anthony Lemuel Lim (son of Council Member Alfredo Lim) and Atty. Peter Kho, the FFCCCII's Assistant to the President on Legal Matters.