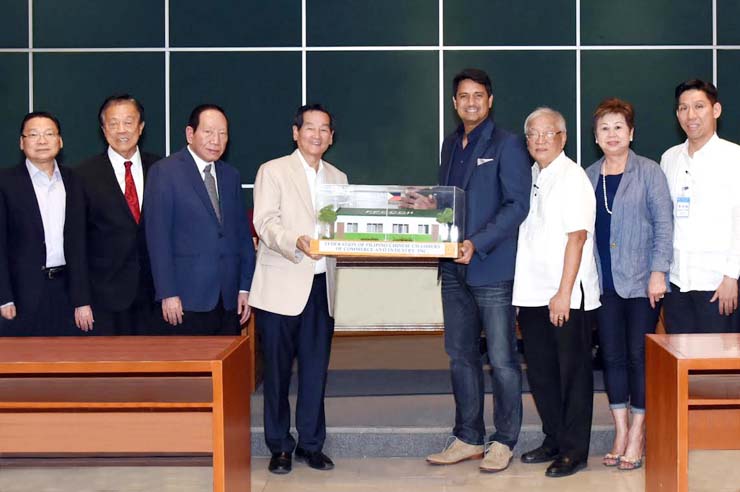 Shown from left are: FFCCCII honorary presidents Angel Ngu, Jimmy Tang and Ambassador Domingo Lee, FFCCCII president Domingo Yap, Ormoc City Mayor Richard Gomez, FFCCCII Eastern Visayas director Alan Ong Cabigao, FFCCCII vice presidents Mary Ng and David Chua.
The Filipino-Chinese community, through Federation of Filipino-Chinese Chambers of Commerce & Industry, Inc. (FFCCCII) led by President Domingo Yap, recently turned over its donation of a new drug rehabilitation center for Ormoc City, Leyte province through Mayor Richard Gomez who said there are thousands of illegal drug surrenderees in his city.
FFCCCII has committed to donate 15 rehab centers to Luzon, Visayas and Mindanao to help cure illegal drugs victims and to support President Rodrigo R. Duterte's war on illegal drugs. Richard Gomez is a top actor and athlete, whose advocacies include promoting public health and sports.
Mayor Gomez said: "Thank you very much to the Filipino-Chinese community for always supporting my anti-illegal drugs advocacy, ever since I started the MamamayanAyawsaDroga (MAD) in 1998 during the time of President Joseph 'Erap' Estrada up to now with this new rehab center for Ormoc City. I also thank FFCCCII and the whole Chinese community for your help to Ormoc City and our region during the typhoon Yolanda disaster."
Upholding the local Chinese community's centuries-old Confucian tradition of philanthropy in the Philippines, the FFCCCII has for 63 years mobilized donations from SMEs and big businesses to support charities in education, medical care, Filipino-Chinese fire volunteer brigades and disaster relief operations like typhoons or the Marawi crisis. FFCCCII believes economic growth can be more sustainable if there is social progress and poverty alleviation.
Source: Manila Bulletin news today
Other Sources: Pilipino Star Ngayon news yesterday Abante news today