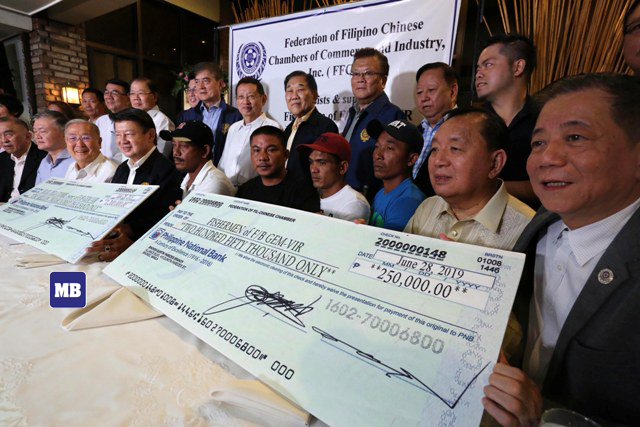 Members of the Federation of Filipino Chinese Chambers of Commerce and Industry Inc (FFCCCII) led by President Dr. Henry Lim Bon Liong donate million pesos cash incentive and pledged a school building to be built in Mindoro for those involved in the unfortunate incident that involved 22 fishermen and their fishing boat at Recto Bank, during press-conference in Quezon City. (MARK BALMORES / MANILA BULLETIN)
An association of Filipino-Chinese businessmen has donated on Friday a total of P1.45 million to Filipino fishermen whose boat was rammed by a Chinese vessel in the Reed (Recto) Bank in the West Philippine Sea.
Members of the Federation of Filipino-Chinese Chambers of Commerce and Industry Inc. (FCCCII) handed on Friday two checks worth P1.2 million and P250,000 to four of the 22 fishermen involved in the incident during a press conference in Quezon City.
"We, at the FFCCCII, are donating P1.2 million for the complete rehabilitation of their damaged fishing boat, and we are also donating P250,000 as livelihood assistance for the 22 fishermen," federation president, Henry Lim Bon Liong said, adding that they were ready to help fellow Filipinos.
"The FFCCCII, as a Filipino business and civic organization, gave this assistance to our fellow countrymen in distress — the fishermen, the fishing boat owner and their families — hoping that this humanitarian act can help alleviate their plight," Liong continued.
On top of the financial aid, the association also pledged to donate five public school buildings for the municipality of San Jose, Occidental Mindoro, the hometown of the fishermen.
The FFCCCII president explained that their assistance and support had "no strings attached" and would not in any way affect the fishermen's statements on the incident as probe is underway.
The four fishermen, led by Junel Insigne, captain of F/B Gem-Ver 1, and Felix Dela Torre, the boat owner, with two crew members, accepted the association's aid.
Insigne and Dela Torre also read their prepared statements to the media as they thanked the members of the FFCCCII .
"Kaming 22 mangingisda ay nagpapasalamat sa FFCCCII sa inyong tulong sa amin at sa aming pamilya. Ang krisis na ito ay talagang naka-apekto sa aming kabuhayan at kinabukasan kaya nagpapasalamat ako sa Filipino-Chinese community sa pagiging bukas-palad," Insigne said.
"Ang pag-aayos ng aming bangka ay tatagal ng apat na buwan kaya ang tulong ninyo sa aming kabuhayan ay malaking halaga sa aming pamilya. Sabik na akong bumalik sa pangigisda," he added.
For Dela Torre, he said that "true friends" can be found in times of need adding that the aid given by the FFCCCII will give them new hope.
"Sa panahon po ng krisis ay nalalaman natin kung sino ang ating tunay na kaibigan. Ang inyong tulong ay magbibigay sa amin ng bagong pag-asa. Mula sa kaibuturan ng aming puso, muli po kaming nagpapasalamat sa FFCCCII," Dela Torre said while also reading his statement.
However, the fishing boat captain refused to comment on issues surrounding the Reed Bank case including President Rodrigo Duterte's latest pronouncements that their boat was not rammed but only "sideswiped" by the Chinese fishing vessel.
The fishermen immediately left the press conference "to meet with a VIP (very important person)," according to Liong.
Insigne previously expressed dismay over the President's response to the ramming incident after calling it only a "little maritime incident."
It was reported that the Gem-Ver 1 was hit by a Chinese vessel near Reed Bank in the West Philippine Sea on June 9.
The shipwrecked fishermen were also left floundering in the water for hours before they were rescued by Vietnamese sailors.
Source: Manila Bulletin