December 1, 2013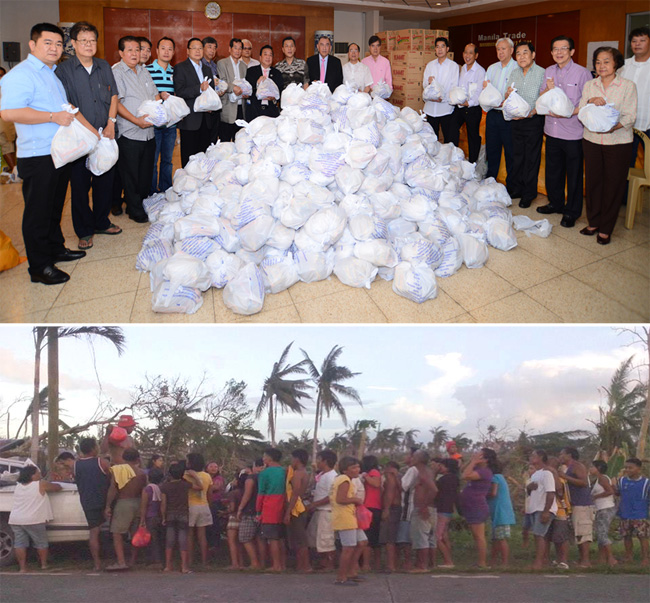 The Federation of Filipino-Chinese Chambers of Commerce and Industry, Inc. (FFCCCII) and FFCCCII Foundation, Inc. together with 6 associations from the Chinese-Filipino community namely, Federation of Filipino-Chinese Associations of the Philippines, World News Daily, Filipino-Chinese Amity Club, Overseas Chinese Alumni Association of the Philippines, Filipino-Chinese Shin Lian Association and Philippine Chinese Chamber of Commerce and Industry, Inc. immediately launched the Chinese-Filipino Community Calamity Fund campaign to help the victims of supertyphoon 'Yolanda' that struck the Philippines on November 8, 2013. The entire Chinese-Filipino community responded overwhelmingly to the campaign which was able to generate substantial monetary donations.
Dr. Alfonso Siy, FFCCCII President, has expressed the Chinese-Filipino community's full support to victims of supertyphoon 'Yolanda' and to help as many people as possible in the affected areas. He enjoins all Chinese-Filipinos to make monetary, in-kind, or volunteer contributions to the major relief effort of the Chinese-Filipino Community.
To provide immediate help to supertyphoon 'Yolanda' victims, relief operations were conducted in Leyte, Samar, Iloilo, Capiz, Negros Occidental, Mindoro, Palawan and other affected provinces through FFCCCII's local Filipino-Chinese chambers. As of November 25, 2013, the Chinese-Filipino community has distributed more than 45,000 relief packages containing rice, water, sardines and noodles. Also distributed were medicines, clothes, diapers, and other items donated by members of the Chinese-Filipino community.
Dr. Lucio Tan, FFCCCII Chairman Emeritus, FFCCCII Welfare Committee Chairman Enrique Chua and FFCCCII Board Member for Eastern Visayas Daniel Yao Cabigon personally flew to Tacloban City to see the situation on the ground and assess what help the Chinese-Filipino community can extend to the victims. Dr. Lucio Tan immediately distributed 300,000 bottles of mineral water through his Asia Brewery, Inc. and assigned two units of mobile water purifying system in Tacloban City to give clean drinking water to 'Yolanda' victims.
They also met with Mayor Remedios Petilla of Palo, Leyte who offered a 5-hectare lot to the Chinese-Filipino community should they want to build houses for the victims. Dr. Lucio Tan relayed the offer to the leaders in charged of the Chinese-Filipino Community Calamity Fund who immediately came up with a proposal to construct 500 settlement houses in Palo, Leyte in the amount of 40 Million pesos. FFCCCII is currently coordinating with the municipal government of Palo, Leyte for the housing project.
Dr. Robin Sy, FFCCCII Honorary President, provided free use of barges through his Asian Shipping Corporation (ASC) to transport heavy equipment of the Metropolitan Manila Development Authority (MMDA), personnel, relief goods and volunteer workers of different groups from Manila to Tacloban and Cebu to Tacloban. Dr. Robin Sy also provided free use of barges to transfer medical equipment and volunteers from the Peace Ark Hospital Ship of China and Red Cross Society of China who are now extending medical services in Tacloban City, Baybay, Abuyog, Leyte and other areas.
Moreover, during the turn-over of 2,000 relief packages to the office of Vice President Jejomar Binay, FFCCCII Executive Director Joaquin Co of WaterCare also donated 4 units of water purifier for 'Yolanda' victims.
FFCCCII Secretariat Staff Ms. Mercy Lim assisted and served as translator of the Red Cross Society of China team and personnel of Peace Ark Hospital Ship of China during their medical mission in Tacloban City.
The Chinese-Filipino community likewise actively participates in the government's relief efforts through the National Resource Operations Center (NROC) of DSWD. FFCCCII has coordinated with Finance Secretary Cesar Purisima, NROC Over-all Coordinator, in transporting the relief goods through "Oplan Hatid Relief Goods" that started on November 15, 2013.
FFCCCII was assigned to pull out relief goods from Villamor Airbase, Cargo House and NROC, with the latter serving as the center of operation, and deliver to Manila International Center Terminal.
In spite of being a peak season for deliveries with the upcoming Christmas season, FFCCCII officers and members generously lent their own trucks and provided free gas and drivers to mobilize "Oplan Hatid Relief Goods".
The donors who provided trucks were FFCCCII President Alfonso Siy – Fortune Net Group of Companies; FFCCCII Executive Director Melesa 'Elsie' Chua and Mr. David Chua – CDC Holdings Inc. & CDC Manufacturing Inc.; Mr. Raul Ang – Maxima Machineries, Inc.; Ms. Janet Tan Cong Hi – LM Cereal Corp. & Golden Season Grains Center Inc.; FFCCCII Executive Director Danny Chong – Trans Ocean Container Services (Phils.) Inc.; FFCCCII Executive Director Richard Ang – Morocco Trading; Mr. Steven Co and Mr. Ruben Ong.
Aside from this, 2 Million pesos was allocated from the Chinese-Filipino Community Calamity Fund to rent additional trucks and purchase 1,000 pallets and 360 rolls of film wrap to pack the relief goods. Pallets were used to move the relief goods easier.
FFCCCII President Alfonso Siy designated FFCCCII Executive Director Melesa Chua to be the representative of the Chinese-Filipino community at NROC. Mrs. Chua, who has been staying at NROC more than 16 hours a day, has been commended for her excellent service and was chosen by Secretary Purisima to help oversee the operations. She saw the need to fast track the operation and set up a 24-hour command center to set up communication with truck drivers. Security and fast-lane for trucks carrying relief goods at the pier were also requested by FFCCCII.
On average, 30 trucks are used daily for "Oplan Hatid Relief Goods". From November 15 to December 1, the trucks made more than 150 trips from NROC to the pier and back again delivering more than 420,000 sacks of relief goods.
Since 1954, FFCCCII has launched similar relief campaigns such as "Operations Yoling" in 1970, "Operations Pakikisama" Central Luzon floods in 1972, "Operations Frank" in 2008, "Operations Ondoy" in 2009, "Operations Sendong" in 2011, during the worst floods ever to hit the country.
FFCCCII and the Chinese-Filipino community re-affirm its full support to our Filipino brothers and sisters in the relief, recovery and rehabilitation efforts on the devastation brought about by supertyphoon 'Yolanda'. Together, we will rise from this catastrophe.