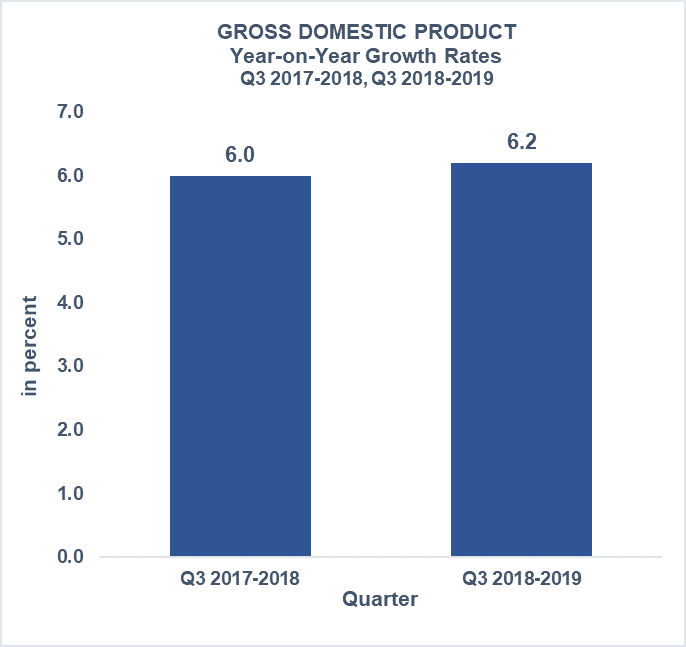 Reference Number: 2019-187
Release Date: November 7, 2019
GDPGross Domestic Product (GDP) grew year-on-year by 6.2 percent in the third quarter of 2019.
Trade and Repair of Motor Vehicles, Motorcycles, Personal and Household Goods; Construction; and Financial Intermediation were the main drivers of growth for the quarter.
Among the major economic sectors, Services posted the fastest growth with 6.9 percent. Industry grew by 5.6 percent. Agriculture, Hunting, Forestry and Fishing registered a growth of 3.1 percent.
Net Primary Income (NPI) from the rest of the world and Gross National Income (GNI) had corresponding growths of 2.9 percent and 5.6 percent.
With the country's projected population reaching 108.3 million in the third quarter of 2019, per capita GDP grew by 4.5 percent. Meanwhile, per capita GNI and per capita Household Final Consumption Expenditure (HFCE) posted a growth of 4.0 percent and 4.3 percent, respectively.
CLAIRE DENNIS S. MAPA
Undersecretary
National Statistician and Civil Registrar General
Source: http://psa.gov.ph/