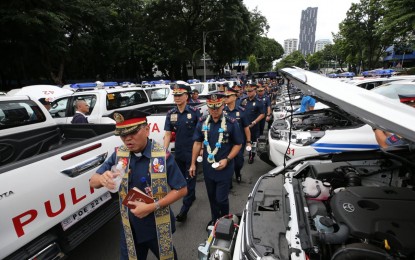 MANILA — To further boost the police's operational capability and visibility, Philippine National Police (PNP) chief, General Oscar Albayalde on Thursday announced the acquisition of PHP784 million worth of vehicles, guns and other equipment as part of its effort to improve operational capability especially in the provinces.
Albayalde, who personally witnessed the blessing of newly-procured police equipment held at the PNP Heritage Park in Camp Crame, said the fund was sourced from the Capability Enhancement Program which is being given on top of the annual budget for the PNP.
"These equipment are expected to enhance the basic operational requirements of PNP units, especially city and municipal police stations, public safety battalions and company, and national support units," Albayalde said.
The PNP has been receiving PHP2 billion a year for its modernization project. But for the last three years, Albayalde said they already received PHP22 billion.
For his part, Lt. Gen. Archie Francisco Gamboa, chairman of the PNP National Headquarters Bids and Awards Committee presented to Albayalde the newly-acquired police equipment amounting to PHP784,688,248 bankrolled by appropriations from the PNP Capability Enhancement Program of 2014 to 2019 and from the General Appropriations Act 2018.
Gamboa said the 95 units of 4×4 utility vehicles will be issued to police provincial headquarters and city police offices to fill up mobility assets. The 10,000 units Canik 9mm pistol will be issued to the newly-recruited PNP personnel.
He added 78 units NEGEV light machine guns, 3,684 enhanced combat helmets and 2,255 units tactical vest will be distributed to police mobile forces along with 568,226 rounds of 9mm ammunition.
According to Gamboa, the procurement is part of the continuing effort of the PNP leadership and the national government to enhance the firepower, mobility, communication, and investigative capabilities of PNP operating units. (PNA)
Source: http://www.pna.gov.ph/