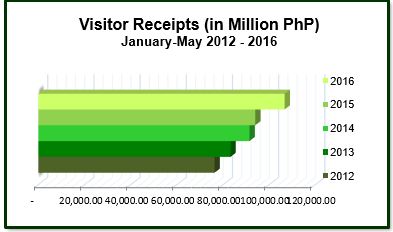 Visitor Receipts. Total earnings gained from tourism activities from January to May 2016 amounted to about Php 106.61 billion. This recorded a double-digit growth of 13.53% compared to Php 93.91 billion earnings for the same period in 2015. For the month of May 2016, receipts amounted to an estimated Php 19.95 billion, posting a significant increase of 18.97% versus the Php 16.77 billion earnings in May 2015. The month of February recorded the biggest receipts of Php 27.49 billion as well as the highest growth of 42.09%.

For the month of May, the Average Daily Expenditure (ADE) of a visitor is Php 5,580.24, showing 21.75% increase from the Average Daily Expenditure in May 2015 at Php 4,583.29. On the other hand, the Average Length of Stay (ALoS) of tourists is registered at 9.90 nights. Moreover, Average per Capita Expenditure of visitors for the month is at Php 55,244.36, a 19.22% growth from Php 46,337.09 in May 2015.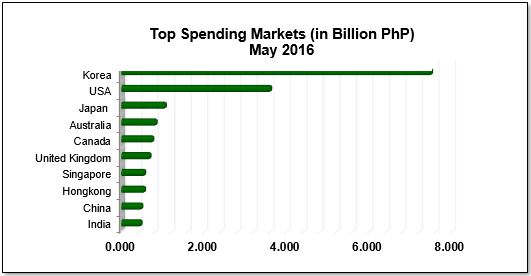 For the month of May 2016. visitors from Korea is still the top spending market with total spent of Php 7.53 billion. Visitors from the U.S.A. remained to be the second biggest spending market with receipts amounting to Php 3.63 billion. Still at the top five spending markets are Japan with an estimated expenditure of Php1.08 billion, followed by Australia with Php 0.854 billion spending. The fifth spot was occupied by Canada with an estimated receipts of Php 0.77 billion.
Among the top twelve markets of the country, visitors from Korea recorded the highest per capita spending for May 2016 with Php 79,441.14 while visitors from India registered the second biggest per capita spending of Php 67,670.28. With very high per capita spending, Hongkong rose to the third spot with Php 61,175.99. Other top markets with high per capita spending include Canada with Php 54,832.07, United Kingdom with Php 53,319.70, and Australia with Php 42,922.79.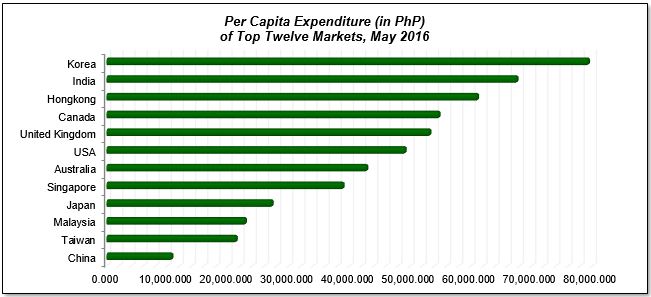 Visitor Arrivals. Visitor arrivals for the month of May 2016 reached a total of 445,449, posting a 7.61% increase versus the 413,937 visitor count in May 2015. The country has welcomed a total of 2,519,300 visitors since January 2016, marking another milestone of surpassing 2.5 million arrivals in just 5 months. This volume is 13.02% higher than the accumulated 2,229,139 arrivals in January to May 2015. Consistent growth were registered with 13.17% in January, 20.42% in February, 11.86% in March and 11.39% in April. The biggest volume was recorded in February with 549,725 visitors.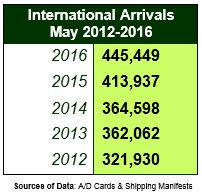 By regional grouping, East Asia supplied the biggest influx of arrivals with 209,175 tourists for May 2016, taking 46.96% of total inbound traffic. It posted an increase of 11.26% compared to the 188,004 arrivals for the same period last year. Korea, Japan and China which belong to this region accounted for 40.63% of the total volume.
Visitors from North America reached 87,923 arrivals, constituting 19.74% of the total inbound volume. This figure is 9.12% higher than the 80,573 arrivals last May 2015. ASEAN countries produced a total of 40,196 arrivals, comprising 9.02% of the total inbound traffic. Visitors from Australasia/Pacific region accumulated 26,209 arrivals with a share of 5.88% to the total. Meanwhile, Northern European region provided 18,299 arrivals.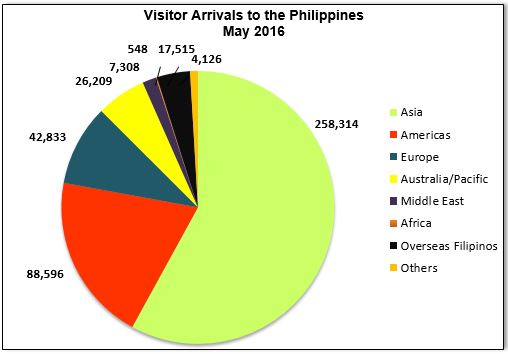 For the month of May 2016, 439,662 visitors entered the country through various airports. This comprised 98.70% of the total inbound visitors to the country.
The Ninoy Aquino International Airport, as the primary port of entry of the country, welcomed 68.42% of the total visitor volume equivalent to 304,763 arrivals. For the major airports in Central Philippines, Cebu welcomed 75,449 visitors comprising 16.94% of arrivals while Kalibo received 41,805 visitors corresponding to 9.38% of the total arrivals. The Clark International Airport received 14,757 visitors while the rest of the airports accumulated 2,888 arrivals.
With increasing visitors coming for cruise tourism, this segment proved to be one of the fastest growing segments in Philippine tourism. Cruise ship entered through the port of Puerto Princesa brought 2,295 visitors.
Comprising the biggest bulk of arrivals are countries from Asia, with 58% of total volume equivalent to 258,314 visitors. Visitor arrivals from China continue to increase by 48.48%, from 31,537arrivals in May 2015 to 46,825 this year. This is a good sign that this market is on the road to recovery. North and South America contributed 88,596 arrivals, with a share of 19.89%. On the other hand, 42,833 arrivals (9.62%) were recorded from Europe while some 26,209 arrivals (5.88%) were from the Australasia/Pacific.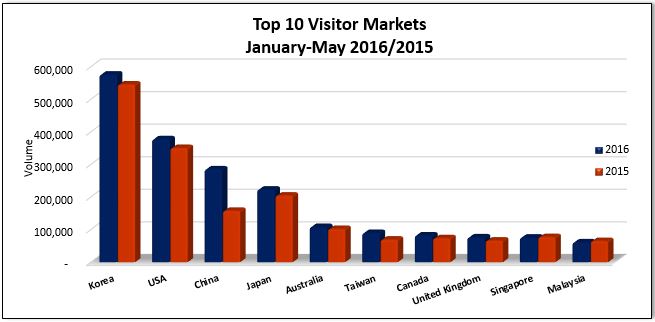 Visitor Markets, January to May 2016. The Korean market is still the biggest visitor market of the country. From January to May 2016, visitors from Korea has already reached more than half a million by providing 576,332 visitors comprising 22.88% of the total arrivals. The United States of America maintained its position as the second biggest visitor-generating market with accumulated arrivals of 377,595 persons, forming 15% of the total.
China, the third biggest market, supplied 285,348 and a share of 11.33%. Japan followed with visitor count of 223,042, constituting 8.85% of the total inbound traffic. Australia, the fifth major market, has already reached more than 100,000 arrivals in just five months at 108,382, comprising 4.30% of the total. This market first reached its 100 thousand arrivals in year-end 2006 by recording 101,313 visitors.
Sustaining its growth in arrivals, Taiwan (+29.45%) occupied the sixth place for two consecutive months by bringing 89,792 visitors. It is followed by Canada (+11.42%) with a total of 82,340 arrivals and United Kingdom (+14.85%) with 76,275 arrivals. Completing the top ten markets are ASEAN countries, Singapore with 75,756 arrivals and Malaysia with 60,911 arrivals. Hongkong and Germany remained at the 11th and 12th spot, respectively.
Among the top 12 markets, China posted the highest growth of 80.79% followed by Taiwan with 29.45% increase.
High growth markets, January to May 2016. In addition to the top twelve markets, countries with substantial growth in inbound traffic are: India with 36,823 (+17.85%), France with 28,336 (+24.20%), Spain with 11,737 arrivals (+26.14%), Sweden with 12,852 arrivals (+19.18%), Switzerland with 14,152 arrivals (+9.88%), Netherlands with 14,088 arrivals (+12.81%), and Denmark with 9,038 arrivals (+25.39%).
Source: www.tourism.gov.ph