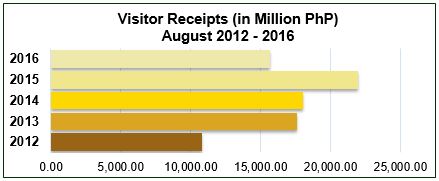 Visitor Receipts. Receipts for the month of August 2016 amounted to Php 15.69 billion. This amount decreased by 28.58% from the Php 21.97 billion earnings in August 2015.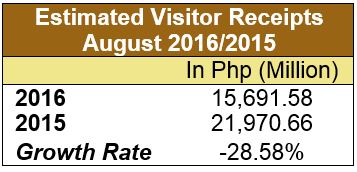 The Average Daily Expenditure (ADE) of visitors for the month in review is Php 4,095.32. On the other hand, the reported Average Length of Stay (ALoS) of tourists is registered at 9.65 nights while Average per Capita Expenditure of visitors for the month is pegged at Php 39,519.79.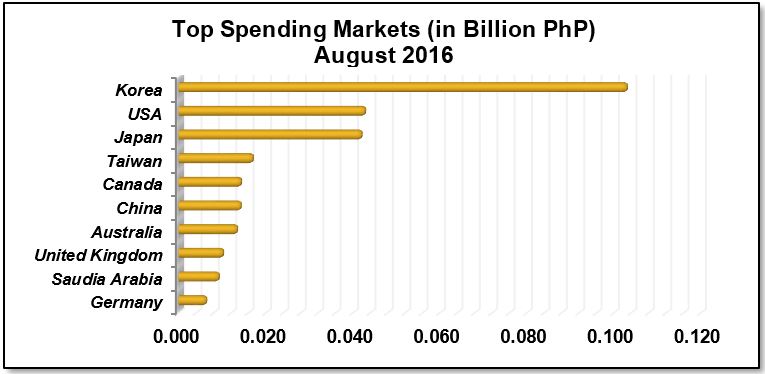 Korea is still the top spending market with estimated expenditure of Php 102.88 million for the month of August. Visitors from U.S.A. remained in second place with receipts amounting to Php 42.84 million. Japan followed with recorded spending of Php 42.01 million. Taiwan settled in fourth spot with estimated receipts of Php 17.09 million. Canada entered the top five spending markets with reported spent of about Php 14.29 billion.
Among the top twelve markets of the country, Canada registered the highest per capita expenditure for August 2016. In average, a visitor from Canada spent Php 66,015.34 while in the country. On the other hand, visitors from Saudi Arabia recorded the second biggest per capita spending of Php 54,236.00 while Germany followed with Php50,409.68 per capita expenditure. Other top markets with high per capita spending include Spain with Php 46,651.74, India with Php 42,528.84, and Australia with Php 40,072.32.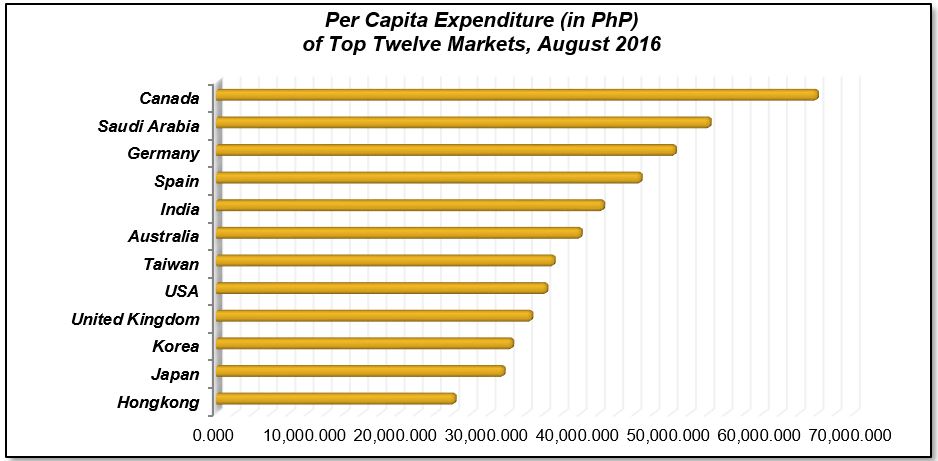 Visitor Arrivals. The country welcomed 502,739 tourists for the month of August, 4.59% higher than the arrivals of 480,689 in August last year. It can be noted that this is the first time that this month surpassed the 500,000 visitor volume.
By regional grouping, East Asia is the biggest source of arrivals with 302,812 arrivals with a market share of 60.23%. This figure rose by 4.97% relative to August 2015 arrivals of 288,483. Korea, Japan and China which comprised the top 3 markets for August accounted for 54% of the total volume.
North America provided the second biggest influx of tourists with 65,402 arrivals, forming 13.01% of the total tourist traffic. This volume showed 10.42% growth vis-à-vis its arrivals of 59,230 for the same period last year. The ASEAN region accounted for 35,223 arrivals, providing 7.01% of the total. The Australasia/Pacific region supplied 20,789 arrivals with a share of 4.14% to the total.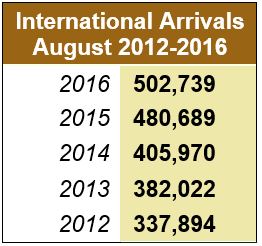 The largest chunk of arrivals for August came from Asia, covering 68.86% of the total or 346,204 visitors. Arrivals from the Americas contributed 13.01% of total inbound volume equivalent to 65,402. On the other hand, 42,339 arrivals (8.42%) was recorded from Europe while some 20,789 arrivals (4.14%) were from Australasia/Pacific.
Arrivals by Port of Entry. In August 2016, 499,209 visitors entered the country through various airports. This comprised 99.30% of the total inbound visitors to the country.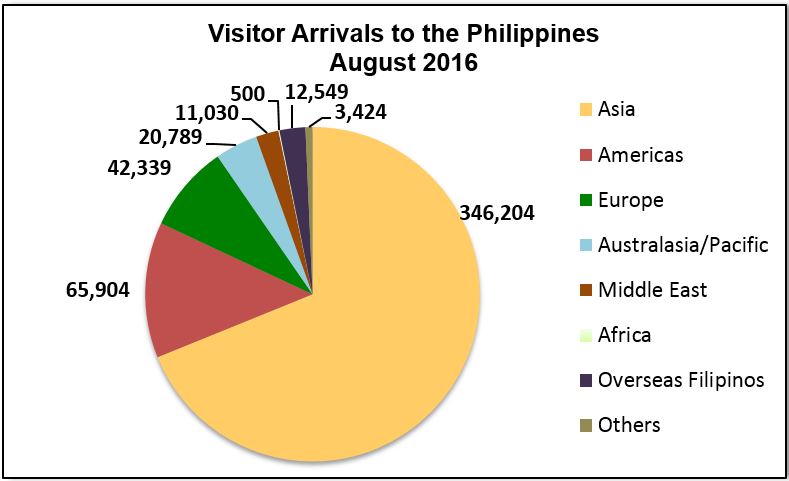 A total of 307,596 tourists arrived at Ninoy Aquino International Airport, the primary port of entry of the country. This constituted 61.18% of the total inbound traffic. For the major airports in Central Philippines, 20.64% of arrivals or 103,778 visitors entered through Cebu while 13.25% or 66,621 were received at Kalibo. The Clark International Airport, major gateway of Luzon, recorded 18,754 of the visitors while the rest of the airports accumulated 2,460 arrivals.
Visitor Markets, August 2016. Korea provided 147,588 arrivals, up by 5.82% from the arrivals of 139,472 for the same period last year. Japan surged past China and USA by bringing 62,054 arrivals which is 10.82% higher than the August 2015 arrivals of 55,997. Meanwhile, China ranked third with 61,766 arrivals. USA supplied 55,080 arrivals with a 10.05% rise from its 50,050 arrivals in August last year.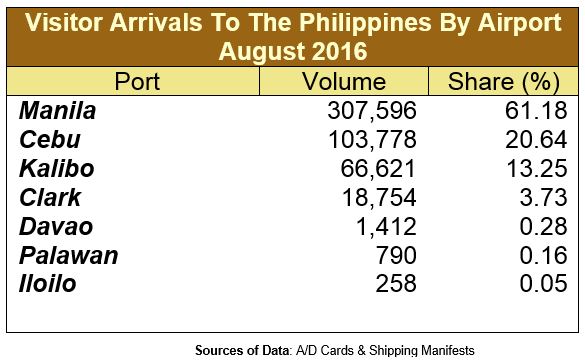 Taiwan remained at the fifth spot for three straight months with 21,498 arrivals, an increase of 31.11% from August 2015. Australia has contributed 15,575 tourists followed by Singapore with 14,008. Completing the top ten markets for the month are United Kingdom with 13,682 arrivals, Malaysia with 10,810 arrivals, and Canada with 10,104 arrivals.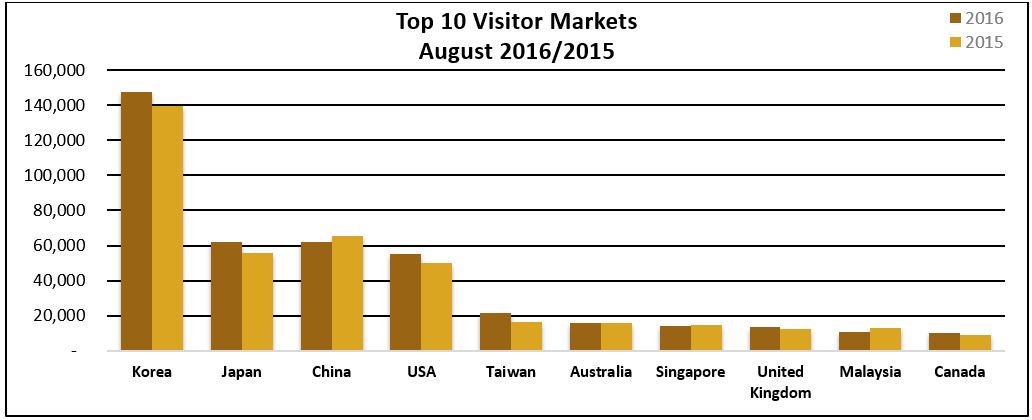 Visitor Receipts. Total earnings gained from tourism activities from January to August 2016 summed up to about Php 164.25 billion. This recorded a gain of 7.92% compared to Php 152.19 billion for the same period in 2015. The month of February recorded the biggest receipts of Php 27.49 billion, as well as, the highest growth of 42.09%.

Visitor Arrivals. Inbound visitors from January to August has already summed up to 4,042,049 arrivals. It is the first time to reach four million arrivals in just eight months. This volume escalated by 12.59% than the accumulated arrivals of 3,590,038 in the same period last year. Consistent growth is observed though the months with double-digit gain from January to July except for the month of May. The biggest volume was recorded in July while the highest growth was registered in the month of February.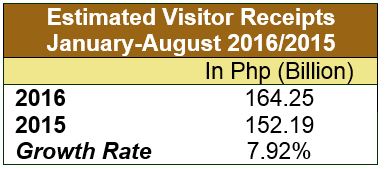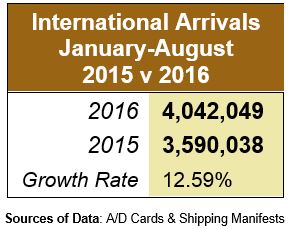 Countries from Asia continue to widen its market share for 2016 by delivering 60.95% of the total visitor volume or 2,463,759 arrivals. East Asia alone filled more than half of total volume with 2,073,361 arrivals (51.29%) while the remaining fragments came from the ASEAN with 316,406 arrivals (7.83%) and South Asia with 73,992 arrivals.
North and South America supplied a total of 706,028 arrivals and a share of 17.47%. On the other hand, 419,755 arrivals (10.38%) were recorded from Europe while 207,477 arrivals (5.13%) were registered from the Australasia/Pacific.

Visitor Markets, January to August 2016. Korea is the country's top source of arrivals and has accumulated 976,499 arrivals for 2016, a share of 24.16%. The United States of America occupied the second spot with an aggregate 584,149 visitor arrivals, corresponding to 14.45% of the total.
Visitors from China formed the 11.99% of the inbound traffic, equivalent to 484,567 arrivals. Japan followed with 367,144 arrivals, comprising 9.08% of the total inbound traffic. Australia which provided 161,016 arrivals secured the fifth spot, with 3.98% share of the total.
Taiwan (+30.58%) took the sixth place by bringing a total of 157,517 visitors followed by Singapore with 120,241 total arrivals. Showing consistent double-digit growth are United Kingdom (+13.48%) with 117,535 arrivals and Canada (+11.52%) with 114,074 arrivals. Malaysia completed the top 10 with 95,129 visitor count. Hongkong and India claimed the 11th and 12th spot, respectively.
Among the top 12 markets, China posted the highest growth of 50.29% followed by Taiwan with 30.58% increase.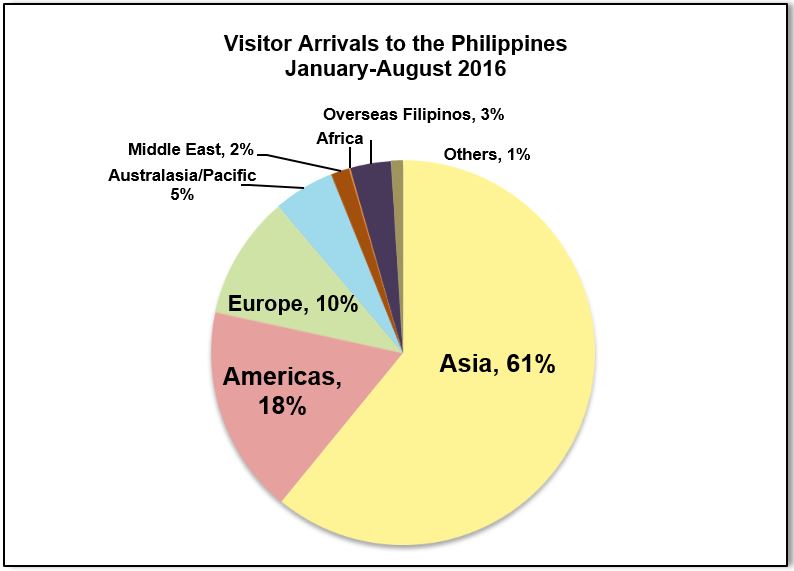 High growth markets, January to August 2016. In addition to the top twelve markets, countries with substantial growth in visitor volume are Saudi Arabia with 39,352 arrivals (+13.04%) and European countries such as: Germany with 57,548 arrivals (+17.45%),
France with 38,703 (+21.09%), Spain with 20,921 arrivals (+29.55%), Sweden with 16,760 arrivals (+19.53%), Netherlands with 21,238 arrivals (+12.54%), Italy with 16,848 arrivals (+15.26%), and Denmark with 12,710 arrivals (+24.19%).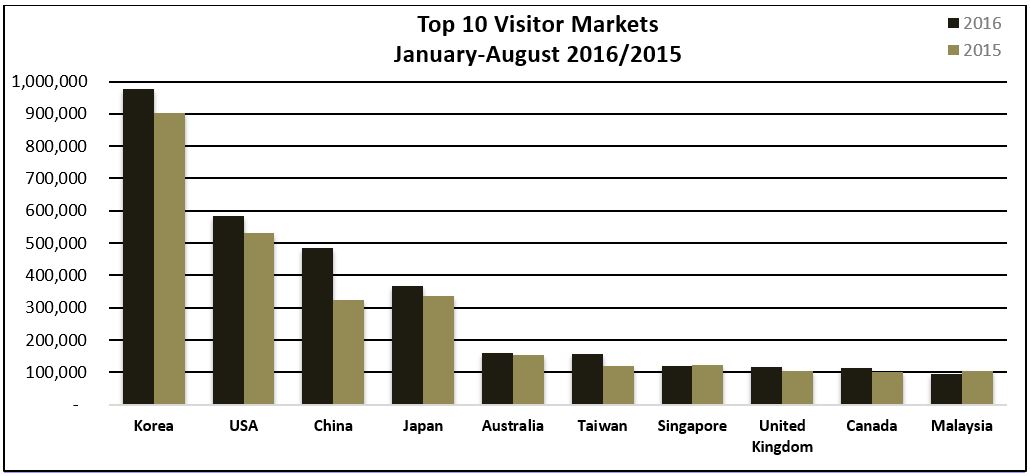 Source: www.tourism.gov.ph