DECEMBER 2016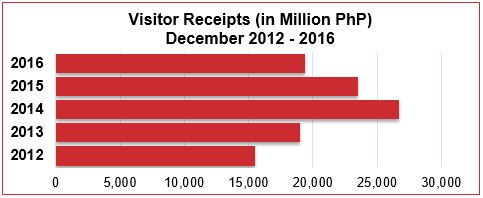 Visitor Receipts. Receipts for the month of December aggregated to about Php 19.38 billion.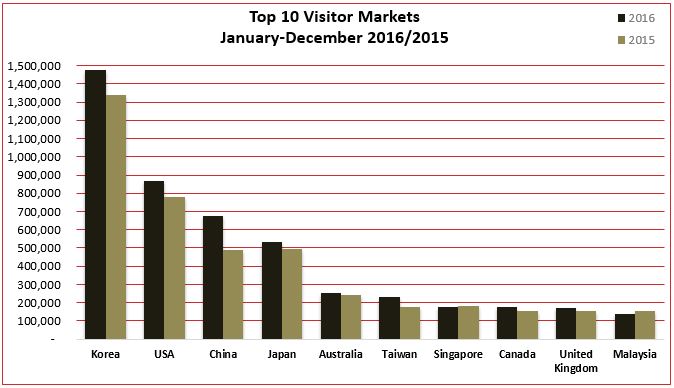 For the month in review, visitors registered an Average Daily Expenditure (ADE) of Php 3,903.05. On the other hand, the reported Average Length of Stay (ALoS) of tourists in the country is recorded at 8.73 nights while Average per Capita Expenditure of visitors for the month is pegged at Php 34,073.65.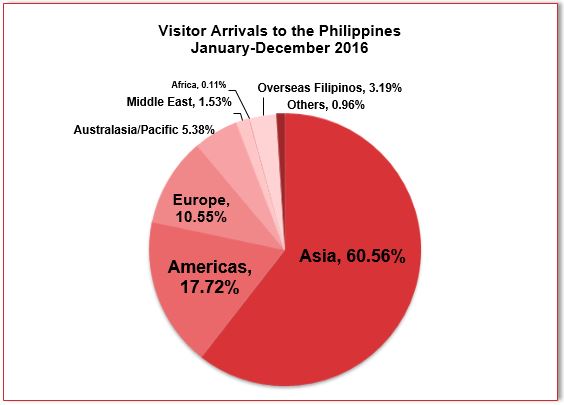 Korea is the top spending market with total receipts amounting to Php 5.60 billion. USA ranked second in visitor spending by contributing Php 2.69 billion to the tourism coffer. Canada rose to third spot with Php 1.96 billion spent, overtaking Australia which settled in fourth place by providing with Php 1.46 billion while Japan took the fifth place with Php 1.22 billion.
Among the top twelve markets of the country, Canada registered the highest per capita expenditure for December 2016. In average, a visitor from Canada has spent Php82,337.28 while in the country. Visitors from Australia reported the second highest per capita spending of Php 44,791.00. India followed with Php 42,639.64 per capita expenditure. Other top markets with high per capita spending include United Kingdom with Php 42,435.64, Korea with Php 39,074.16, and Japan with Php 27,658.72.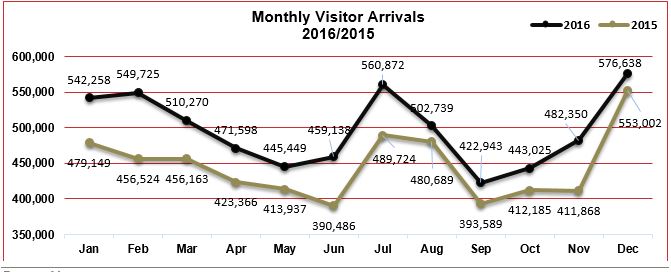 Visitor Arrivals. The country welcomed 576,638 tourists for the month of December, the highest recorded volume for 2016. This figure is 4.27% higher than the arrivals of 553,002 in December last year. Historically, among the twelve months of the year, December always produce the biggest volume of arrivals which could be attributed to the influx of visitors during the Christmas holidays.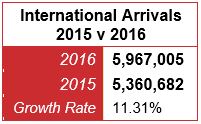 Sources of Data: A/D Cards & Shipping Manifests
By regional grouping, East Asia is the biggest source of arrivals with 258,275 visitors and a market share of 44.79%. This figure rose by 7.71% relative to its December 2015 arrivals of 239,790. Korea, Japan and China which belong to this region accounted for 40.35% of the total visitor volume.
North America provided the second biggest influx of tourists with 121,696 arrivals, forming 21.10% of the total tourist traffic. This volume showed 10.05% growth vis-à-vis its arrivals of 110,587 for the same period last year. The Australasia/Pacific region supplied 40,350 arrivals with a share of 7.00% to the total while the ASEAN region accounted for 37,249 arrivals, providing 6.46% to the total.
The largest chunk of arrivals came from Asia, covering 52.78% of the total or 304,378 visitors. Arrivals from the Americas contributed 21.27% to total inbound volume equivalent to 122,637. On the other hand, 74,849 arrivals (12.98%) came from Europe while some 40,350 arrivals (7%) were from Australasia/Pacific.
Arrivals by Port of Entry. Air arrivals comprised 99.34% of the total inbound visitors, equivalent to 572,837 visitors.


Sources of Data: A/D Cards
A total of 391,243 tourists (67.85%) arrived at Ninoy Aquino International Airport, the primary port of entry of the country. For the major airports in Central Philippines, 100,140 visitors (17.37%) entered through Mactan-Cebu International Airport while 52,694 (9.14%) were received at Kalibo International Airport. The Clark International Airport, major gateway of Luzon, recorded 25,296 of the visitors while the rest of the airports accumulated 3,464 arrivals.
Visitor Markets, December 2016. Korea provided 143,380 arrivals, up by 6.08% from its arrivals of 135,156 in December last year. USA ranked 2nd by bringing 97,614 arrivals, 12.06% higher than the December 2015 arrivals of 87,108. China ranked third with 45,336 arrivals, showing a double-digit growth of 20.43%. Japan followed closely by supplying 43,977 arrivals for the month in review.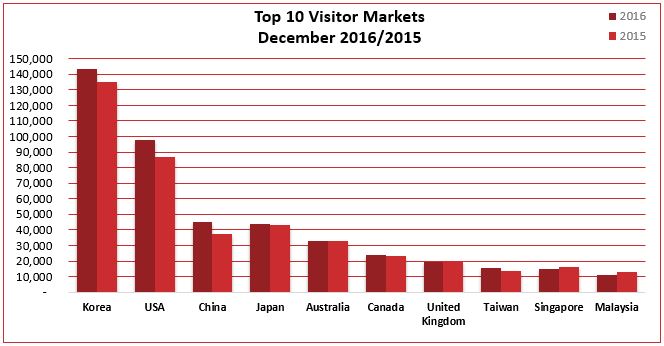 Australia is steady in the fifth spot with 32,660 visitor count. On the other hand, Canada contributed 23,861 tourists, followed by United Kingdom with 19,590 visitors. Completing the top ten markets for the month are countries from Asia which are: Taiwan with 15,781 arrivals, Singapore with 14,863 arrivals and Malaysia with 11,056 arrivals.
YEAR-END REVIEW (January-December 2016)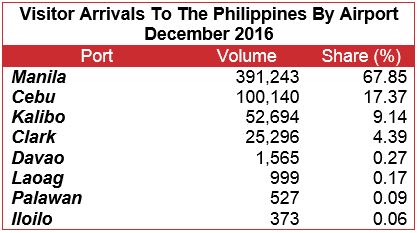 Visitor Receipts. Tourism activities for the year generated earnings amounting to Php 230.13 billon. The month of February recorded the biggest receipts of Php 27.49 billion, as well as, the highest growth of 42.09%.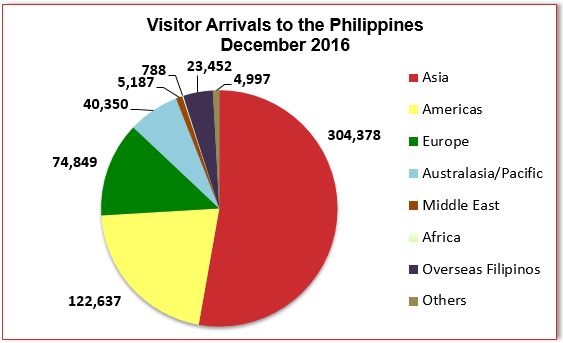 Visitor Arrivals. The Philippine tourism industry reached a new milestone as the country welcomed a total of 5,967,005 arrivals, closely hitting the Six Million Arrival mark. This volume escalated by 11.31% compared to the 5,360,682 arrivals last year.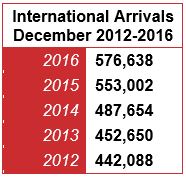 Consistent growth is observed through the months with double-digit gain from January to December, except for the months of May, August to October, and December. The month of December recorded the biggest volume while the highest growth was registered in February (+20.42%).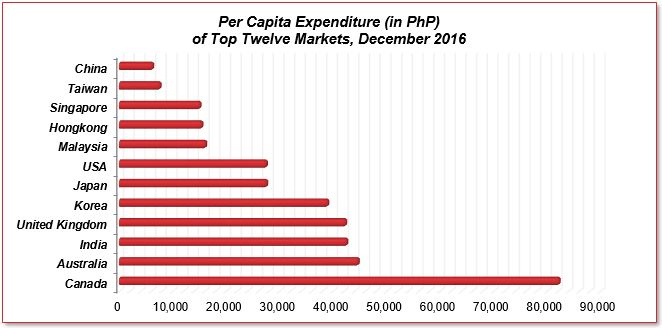 Countries from Asia delivered 60.56% of the total visitors or 3,613,725 arrivals. East Asia alone filled more than half of total volume with 3,040,860 arrivals (50.96%) while the remaining fragments came from the ASEAN with 461,698 arrivals (7.74%) and South Asia with 111,167 arrivals.
North and South America supplied a combined total of 1,057,190 arrivals and a share of 17.72%. On the other hand, 629,273 arrivals (10.55%) were recorded from the aggregate arrivals from Europe while 321,061 arrivals (5.38%) were registered from the Australasia/Pacific.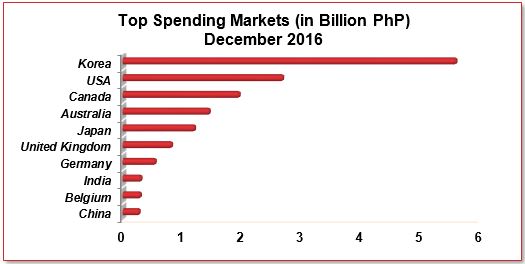 Visitor Markets. As the country's top source of arrivals, Korea is the first market to surpass the 1.4 million arrivals. From its milestone arrivals of 1.03 million in 2012, this market almost hit the 1.5 million mark as it accumulated a year-end volume of 1,475,081 arrivals for 2016. This market constituted almost one-fourth of the country's arrivals as it shared 24.72% and registered a growth of 10.11% compared to its arrivals of 1,339,678 last year. It has consistently produced more than 100,000 arrivals every month, except for March, April and May with arrivals of more than 90,000 visitors.
The United States of America is still the 2nd top market with a total of 869,463 visitor arrivals, corresponding to 14.57% of the total and showing an increase of 11.58%. The Chinese market rose to third spot in 2016 with total arrivals of 675,663, with a market share of 11.32%. This market recorded an impressive growth of 37.65% from its 490,841 arrivals in 2015. Japan finished 4th with 535,238 arrivals, comprising 8.97% of the total inbound traffic. This market is the fourth market that surpassed the 500 thousand mark, following the U.S.A in 2005, Korea in 2006, and China in September 2016. Australia followed with 251,098 arrivals, providing 4.21% share to the total.
Taiwan occupied the 6th place by bringing a total of 229,303 visitors with a high growth of 29.06% relative to its arrivals of 177,670 last year. Completing the top ten visitor markets are Singapore with 176,057 arrivals, Canada with 175,631 arrivals, United Kingdom with 173,299 arrivals and Malaysia with 139,133 arrivals. Hongkong and India claimed the 11th and 12th spot, respectively.
Among the top 12 markets, China posted the highest growth of 37.65% followed by Taiwan with 29.06% increase.
High growth markets. In addition to the top twelve markets, countries with substantial growth in visitor volume are European countries: Germany with 86,363 arrivals (+14.62%), France with 55,384 (+21.71%), Spain with 32,097 arrivals (+32.94%), Sweden with 26,062 arrivals (+12.31%), Netherlands with 31,876 arrivals (+11.33%), Italy with 25,945 arrivals (+20.00%), and Denmark with 18,049 arrivals (+18.21%).
Source: http://www.tourism.gov.ph/pages/industryperformance.aspx