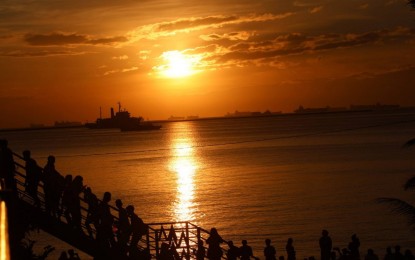 MANILA — Tourists in the metropolis may soon indulge in a walk by the beach once the famous Manila Bay is officially opened to the public.
"The national government will build a 50-meter beach and water treatment facilities wherein the water coming from the inland will be cleaned once it lands to Manila Bay," said Manila Mayor Francisco "Isko Moreno" Domagoso during an interview at the Rizal Park on Tuesday.
On January 27, the national government kicked off the rehabilitation of the famed area, where people flock to watch the sunset, due to tons of waste that have been collected.
At present, the bay's clean-up efforts led by the Department of Environment and Natural Resources (DENR), the Department of Tourism (DOT), and the Department of the Interior and Local Government are ongoing, said Domagoso.
"The Department of Public Works and Highways, the DOT, MMDA, and the DENR asked us for a space near the Yacht Club to put up a water monitoring system," Domagoso said.
"Now, I visited them a week ago, they're laying now the pipes for the water treatment facility so this thing is going on. I think ang sinabi sa akin, kung hindi ako nagkakamali, by first quarter of next year or latter part of this year bubuksan na siya (I'm told, if I'm not mistaken, by first quarter of next year or latter part of this year, it will be opened)," he said. (PNA)
Source: http://www.pna.gov.ph/