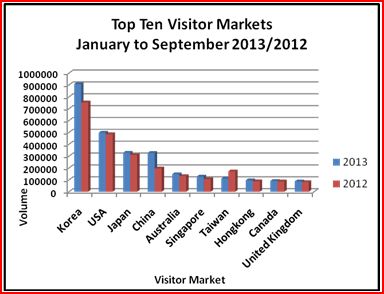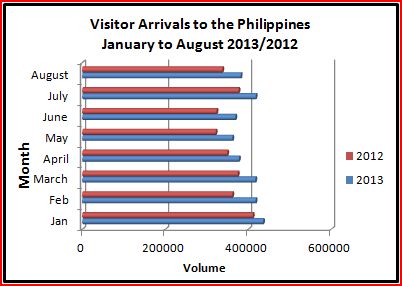 The tourism sector continued to move forward as international visitor arrivals from January to September totalled to 3,509,017, an increase of 11.40% from the previous year's count of 3,149,985 for the same period. This figure represents 63.80% of the targeted visitors for 2013.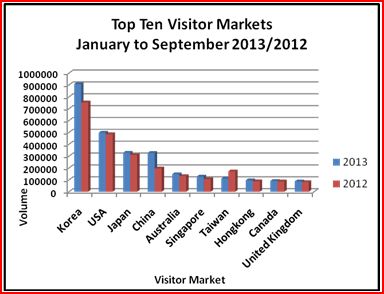 South Korea holds the biggest market to the Philippines with 908,881 visitors (+20.71%); and retaining the largest share (25.90%) of international tourist traffic. It is noted that this market is the first country to contribute more than one million visitors to the Philippines and is likely to surpass its contribution by the end of 2013.
Although posting the least fraction of visitor arrival growth among the top five markets, the USA (+2.53%) still supplied the 2nd largest number of inbound tourists, generating 497,748 travelers, or 14.18% share to the over-all inbound traffic. Meanwhile, Japan (+5.79%) solidified its place as the 3rd biggest source of arrivals with 329,008 visitors which comprised 9.38% of the overall total. China remains 4th with 327,054 arrivals constituting 9.32% of the inbound visitors with an escalated growth of 66.08%. This increase is the highest among the top markets for the period in review. In September alone, this market saw a 124.25% growth in arrivals compared to its previous year's arrivals. The 5th biggest visitor volume is provided by Australia (+12.15%) with 148,218 arrivals for a share of 4.22% to the total. In general, most markets during the period in review posted positive growth rates.
Moreover, the following markets generated noteworthy gains: Saudi Arabia (+34.70%) with 30,258 arrivals, Russian Federation (+29.70%) with 23,199 arrivals, Indonesia (+26.94%) with 33,877 arrivals, Thailand (+18.64%) with 35,364 arrivals, France (+17.77) with 29,263 arrivals, and India (+13.02) with 38,773 arrivals.
Source: www.tourism.gov.ph