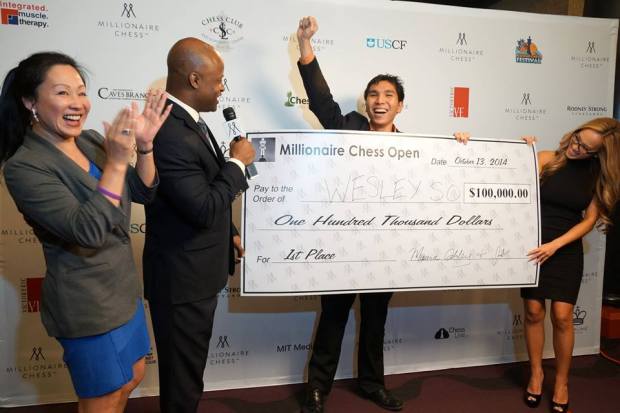 Wesley So exults after receiving from organizer Maurice Ashley a replica of the $100,000 first prize check in the Millionaire Chess Open at Planet Hollywood. PHOTO BY PAUL TRUONG
LAS VEGAS , Nevada — Filipino chess grandmaster Wesley So outplayed Webster University teammate Roby Robson of the United States in the finals to capture the $100,000 first prize in the Millionaire Chess Open championships at Planet Hollywood Resort & Casino.
Despite an inferior position, So forced a draw in the first game as Robson ran into time constraints. With the white pieces in the second game, the 21-year-old So played aggressively to beat his college roommate and win the match 1.5 to .5.
It was the third prestigious victory this year for So, who carried the Philippine flag here despite a falling out with Butch Pichay Jr., the president of the National Chess Federation of the Philippines (NCFP) over the young Filipino's request to transfer to the US chess federation.
In May, So won the prestigious Capablanca Memorial tournament in Havana, Cuba, and in July, he topped the ACP Golden Classic in Bergamo, Italy.
He also finished behind Vassily Ivanchuk of Ukraine at the Edmonton International tournament in Alberta, Canada.
In 32 games so far, he has not lost a single game and here in Las Vegas, he won four and drew two in the seven-round Swiss system in the qualifying round to tie for the lead with Robson, each with six points, and qualify outright in the semifinals.
In the semis, he beat Chinese GM Jianchao Zhou to arrange the finals meeting with Robson, who prevailed over another Chinese grandmaster Yangyi Yu.
With his unbeaten streak, So has jumped to No.10 in the world, with a live rating of 2762, his personal best and the highest a Filipino chess player has ever achieved.
Source: sports.inquirer.net